First things first: We're not fans of dogfighting. And if the charges against Atlanta Falcons quarterback Michael Vick prove true, he should be punished to the fullest extent of the law. But that hasn't stopped the Humane Society of the United States (HSUS) from making him the latest poster boy for its gargantuan — and apparently misleading — fundraising efforts. It looks to us like Vick isn't the only one with some serious explaining to do.
Have we mentioned that we can't stand dogfighting? We also can't stand animal rights fundraising that smells of fraud, or smug activists who can't keep their stories straight.
Case in point: In yesterday's New York Times, HSUS president Wayne Pacelle called for the pit bulls seized from Michael Vick's house to be "put down." That's HSUS-speak for "killed, because we'd rather not spend part of our $223 million nest egg actually operating any pet shelters." Pacelle also lamented: "We don't know how well they are being kept."
But just a few weeks ago in HSUS's prominent plea for the public's donations, the group wrote that it wanted money "to help The Humane Society of the United States care for the dogs seized in the Michael Vick case … your gift will be put to use right away to care for these dogs …" Click here to see a screen-capture from HSUS's website, dated July 18. A week later, HSUS quietly changed its fundraising tune. (Click here to compare it with the current, edited pitch for cash — not that we recommend giving.)
Let's recap: Vick was indicted on July 17. The next day, HSUS was raising money on the promise that it would be used to "care for" Vick's dogs. Just two weeks later, the Times reports that not only wasn't HSUS "caring for" them, but its president had no idea who is, or where. And — oh, yes — he'd very much like them dead.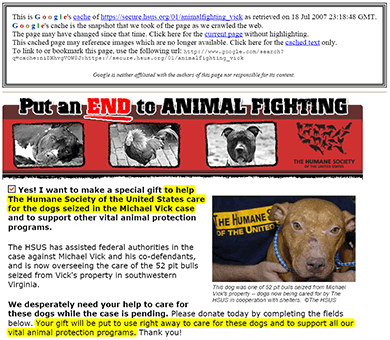 Lest HSUS spin this into a claim that we're somehow defending Michael Vick, we'll say it one more time: Dogfighting is disturbing. But so is a predatory animal rights group that's willing to exploit Americans' emotions about dogs to build its war chest for unrelated anti-meat, anti-dairy, and anti-medical-research campaigns. A large federal investigative "bureau" (which shall remain nameless) has already contacted us for help with what looks like a preliminary investigation into interstate fraud.
HSUS appears to have had similarly warped scruples following Hurricane Katrina; the Louisiana Attorney General is investigating the disposition of the $32 million HSUS raised in the devastating storm's wake. (Click here, here, here and here for more information)